---
| | | |
| --- | --- | --- |
| If you are a Fingerprint Professional, you should consider joining the IAI, The Fingerprint Society, or both. | | |
---
World's Largest Database
As of May 2012, the
Unique Identification Authority of India
operates the world's largest fingerprint (multi-modal biometric) system, with over 200 million fingerprint, face and iris biometric records. UIAI
plans to collect as many as 600 million multi-modal record by the end of 2014. India's Unique Identification project is also known as Aadhaar, a word meaning "the foundation" in several Indian languages. Aadhaar is a voluntary program, with the ambitious goal of eventually providing reliable national ID documents for most of India's 1.2 billion residents.


With a database larger than any other in the world, Aadhaar's ability to leverage automated fingerprint and iris technology enables rapid and reliable searching and identification impossible to accomplish with just fingerprint technology in such a large system, especially when searching children and elderly residents' biometric records.
---
The Philosophy of Friction Ridge Examination ...an interesting presentation by Boyd Baumgartner. Here is a link to other vimeo presentations Boyd has created.
Tips, Tricks and Best Kept Secrets (Universal Latent Workstation and NGI) presented 11 August 2011 by Jeff Carlyle at the 96th Annual IAI Conference .
---
Latent Print Development Techniques for Thermal Paper presented 10 August 2011 by Aldo Mattei and Federico Cervelli at the 96th Annual IAI Conference.

---
---
Community of Fingerprint Experts in Columbia
---
---

Get the Latest Version of Universal Latent Print Workstation (ULW 6.2.21)... Even if you do not currently submit latent print searches directly to the FBI, you may Use ULW Extended Feature Set capabilities to help with casework documentation of Level 1, 2 and 3 information. ULW now includes casework management tools.

---
SWGFAST Glossary and other Documents
---
NIST Latent Fingerprint Home Page


---
NAS Report: Strengthening Forensic Science in the United States: A Path Forward
Access the 41-page Free Executive Summary here.
Report Description from the National Academies Press:
"Scores of talented and dedicated people serve the forensic science community, performing vitally important work. However, they are often constrained by lack of adequate resources, sound policies, and national support. It is clear that change and advancements, both systematic and scientific, are needed in a number of forensic science disciplines to ensure the reliability of work, establish enforceable standards, and promote best practices with consistent application. Strengthening Forensic Science in the United States: A Path Forward provides a detailed plan for addressing these needs and suggests the creation of a new government entity, the National Institute of Forensic Science, to establish and enforce standards within the forensic science community.

The benefits of improving and regulating the forensic science disciplines are clear: assisting law enforcement officials, enhancing homeland security, and reducing the risk of wrongful conviction and exoneration. Strengthening Forensic Science in the United States gives a full account of what is needed to advance the forensic science disciplines, including upgrading of systems and organizational structures, better training, widespread adoption of uniform and enforceable best practices, and mandatory certification and accreditation programs."
News Release on the report.
Access the report here: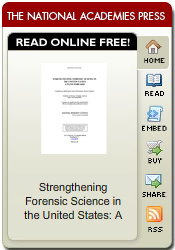 Webcast of 18 Feb 2009 NAS briefing.
---
New forensic term after 18 Feb 2009 (?):
Nif·ty [ níftee ]

adjective (comparative nif·ti·er, superlative nif·ti·est)

Definition:

1. compliant with National Institute of Forensic Science requirements.

2. stylish and good-looking: fashionable and good-looking

3. agile: good, quick, and clever at doing something or using something

4. very good: very good or effective
---
Click here to see news articles on this topic.
---
Identifying the Needs of the Forensic Sciences Community Interesting documents online at the National Academies of Science Committee on Science, Technology and Law
---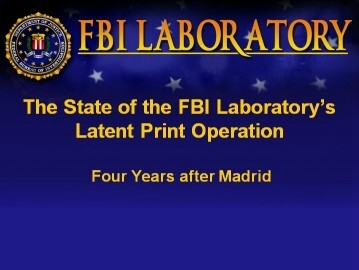 Presented by the FBI Laboratory at the IAI Conference on 18 August 2008
Right-click and download before opening these large files:
PDF Slides (2.4 Mb)

PowerPoint Slides (3.1 Mb)
---
See new Standards and Draft Standards from SWGFAST
---
Position Paper on Latent Fingerprint Identification from the IAI... 29 Nov 2007, from the International Association for Identification.
---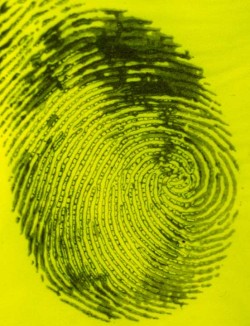 ACID YELLOW Development of Bloody Latent Prints on Dark Surfaces...
27 Jul 2007 IAI presentation, courtesy of the US Army Criminal Investigation Laboratory.
Right-click here to download the large PowerPoint version of this presentation, then open on your computer.
Right-click here to download the large PDF version of this presentation, then open on your computer.
---
Ninhydrin Development without expensive or dangerous solvents. Research from Korea...
---
Major Case Prints DRAFT Card
A new card for recording all finger joints/tips and thenar (base of palm) areas was drafted by SWGFAST.

See images of the new card here.

The new card is intended to facilitate comprehensive record finger and palm prints (AKA Major Case Prints) when fully completed with existing FBI Fingerprint Card (Form FD-249 front and back ) and FBI Palmprint Card (Form FD-884 front and back ) records. The new card form number is expected to be FD-884A.

MCP standardization will assist AFIS as more vendors design systems for handling all friction ridge areas of the hands.
---
The Madrid Error Prints, including Algerian Ouhnane Daoud's record print, are online here

.





The US Department of Justice's March 2006 documents related to the Madrid Error are online at


http://www.usdoj.gov/oig/special/s0601/PDF_list.htm


(Recommend downloading these files before opening from your computer).



Among other findings, the 330 page report criticizes the FBI Laboratory's Examination SOP, and SWGFAST guidelines, as repetitive, vague and general.

The five-page conclusion from the report is available here (much smaller file) .

" The Myth of Goats : How many people have fingerprints that are hard to match?"
by Austin Hicklin, Craig Watson and Brad Ulery

Published as a NIST Interagency Report, NISTIR 7271
---
7 Sep 2005 Massachusetts Supreme Court Oral Arguments
(swf file type)
about Admissibility of Simultaneous Impressions RE: Commonwealth v. Patterson

New Hampshire June 2005 Daubert Challenge
Another Simon Cole Article about Fingerprint Error Rates ...Cole begins by hinting that fingerprint testimony is similar to selling fake insurance policies
(right-click to save and open this 94 page pdf document)